The Annex

Known for its affluent and vibrant feel, The Annex is a laidback Downtown Toronto neighbourhood. The Annex borders the University of Toronto, giving the community its spirited quality. Various family-owned restaurants and shops thrive here. The trendy eateries, boutiques, unique architecture, and Bohemian vibe make The Annex a wonderful enclave for young professionals, students, and artistic types.

There are plenty of recreational and cultural endeavors to explore in The Annex. Watch a flick at Hot Docs Cinema, a historic theatre premiering Canadian and international documentaries year-round. Many of the city's indie film festivals are hosted here. Catch a live musical performance at Lee's Palace rock concert hall, featuring artists such as The Slackers, Armand Hammer, and The Lemonheads. If a rock show isn't your scene and you simply need a quiet place to catch your breath with friends and family, head to Taddle Creek Park.

Once you've been thoroughly cultured, head to one of the many fabulous restaurants in town. The Daily Dumpling is a great spot to grab some takeout on your way home from work, while Fet Zun is ideal for enjoying small plates and drinks with friends. If you're looking to paint the town red, head to Pour House Pub & Kitchen for poutine and beer or Bar Reyna for Mediterranean snacks and craft cocktails.

The Annex is an ideal destination for those who enjoy being surrounded by endless nightlife and entertainment opportunities.
Deer Park

Many well-to-do young families and retirees inhabit Deer Park. Not only does this enclave offer expansive, luxury homes and condos, it also features an excellent shopping area at its center. Given the many outdoor amenities, boutiques, services, restaurants, and distinguished schools, this neighbourhood makes an extraordinary journey's end for growing families.

Family-oriented pastimes are easy to find in Deer Park. Oriole Park is a newly updated park featuring play areas for children and tiny tots, a clubhouse, a baseball diamond, two tennis courts, a sandpit, a junior splash pad and wading pool, two bike trails, and open leisure space. Tennis enthusiasts adore June Rowlands Park for its six tennis courts, while families love the splash pad, ball diamond, playground, and picnic area. During the summer, when you're at work, you can send your kids to Mooredale Summer Camp, where they'll have a blast participating in athletics/archery, arts and crafts, music and drama, science and nature, STEM activities, and more!

In addition to the active recreation accessible in Deer Park, there are plenty of dining and shopping options. Yonge St and St. Clair Ave are the focal points of the town, with a plethora of shops, services, and eateries studded throughout. You can spend the whole day roaming the streets, eating and shopping at various premier establishments. Head to the independent Book City for some imported bargain books before heading to nutbar for a cappuccino and a chance to read. Pick up a specialty gift for your loved one at The Papery before grabbing lunch at Mary Be Kitchen.
Lawrence Park

Located in Uptown Toronto, Lawrence Park is an exclusive residential neighbourhood known for its rolling hills and lush landscape. Lawrence Park is a very family-oriented community with many parks and schools in proximity.

Given the many parks in the neighbourhood, bonding with your family outdoors is an easy feat. Head to the Alexander Muir Memorial Gardens for a moment of solitude or a peaceful stroll among herbs and flowers. Take the scenic forested trail from the Memorial Gardens to Blythwood Ravine Park for a family nature day, complete with a wading pool, a playground, a baseball diamond, and an off-leash dog area. For a larger park with many amenities, go to Sherwood Park, offering two picnic sites, one picnic shelter, a ball diamond, a playground, a wading pool, and a fenced off-leash dog area. Calm, peaceful, and perfect for kids, Lawrence Park is a treasured suburb.

Some notable schools serving Lawrence Park include:

◾ John Wanless Junior Public School, Public, JK-6
◾ Sunny View Junior and Senior Public School, JK-8
◾ Northern Secondary School, Public, 9-12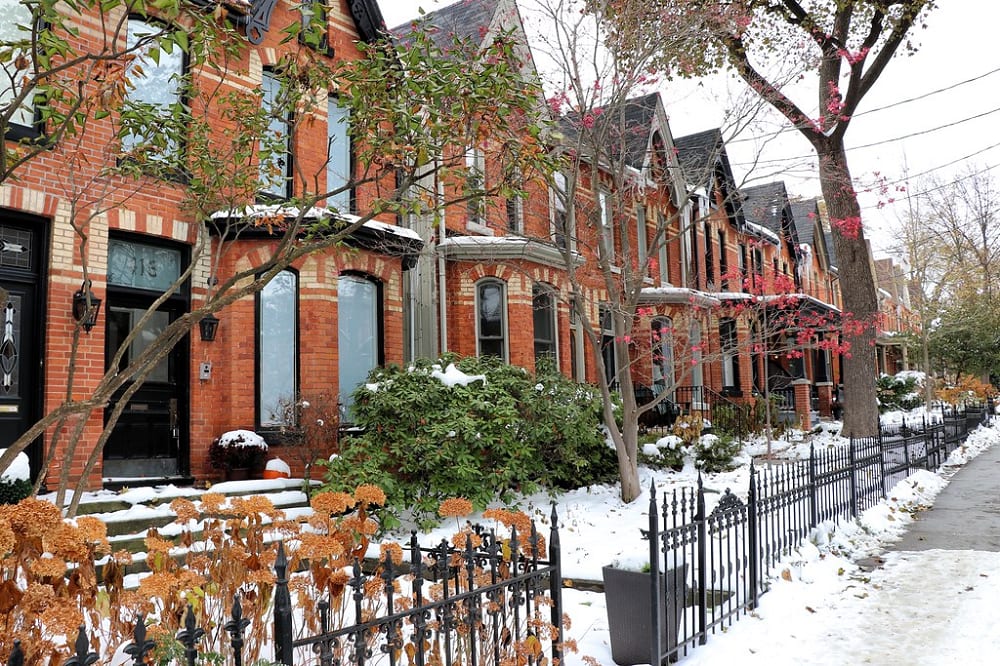 Riverdale, Credit: Dennis Orban
Riverdale

Riverdale is a charming, family-friendly community located in east-end Toronto. Once a rural town, Riverdale, began to take shape in 1918 with the construction of Toronto's largest bridge, the Prince Edward Viaduct. This was a turning point for this popular Toronto neighbourhood. Riverdale is the perfect neighbourhood to call home if you prefer a quiet, family-oriented town with plenty of parks and international cuisine options.

Riverdale Park East is the largest neighbourhood park, coming in at 18 hectares. Drop-in outdoor pool programs are available for kids during summer, with outdoor rink programs accessible during winter. The facilities offered daily include a bike trail, seven outdoor tennis courts, four outdoor table tennis courts, a playground, a bike trail, two ball diamonds, an off-leash dog area, an outdoor swimming pool, and more! Stop by Withrow Park and Clubhouse to relish the two playgrounds, sports field, wading pool, multipurpose room, fire pit, clubhouse, seven bike trails, and more.

Your family will love the varied selection of eateries located on Danforth Ave. Mocha Mocha is a great cafe to take the kids for some crepes and other breakfast dishes. A classic Greek meal filled with tasty appetizers, dips, and hearty entrees can be had at Pantheon. Book the babysitter and head to Allen's for a casual and delicious dinner date, complete with bittersweet chocolate mousse.
Rosedale

Rosedale has a refined quality about it and is one of Toronto's wealthiest neighbourhoods. Residents love Rosedale's tranquil suburban ambiance, proximity to Downtown Toronto, and its array of upscale shopping and dining opportunities. In addition to luxury shops and restaurants, Rosedale is surrounded by beautiful ravines and parkland, giving residents the best of both worlds.

Bike one of the four trails of Chorley Park, take refuge under the mature tree canopy, or enjoy a picnic with your family. Head to Rosedale Park to relish the updated offerings, including eight tennis courts, a baseball diamond, a playground, a wading pool with splash features, a multipurpose field, outdoor table tennis, a skating rink, and a running track. Get a break from the city noise with a nature walk along the Rosedale Ravine Trail. Immerse yourself in nature by the tranquil ponds and lush, green environment of Don Valley Brick Works.

Send your kids off to Mooredale Day Camp this summer, where they'll learn and play through various activities, such as science and nature, athletics, archery, arts and crafts, and more. In addition to the fabulous summer camp, Mooredale House boasts programs for preschoolers through teenagers, music lessons, and adult programs, ensuring the entire community remains active and entertained.

Yonge St is the premier location for neighbourhood restaurants, shops, and services. For a delicious homemade breakfast complete with pancakes, omelets, and the like, head to Sunny Morning. Sorrel Restaurant & Bar offers delectable French-Mediterranean cuisine and a perfect date night atmosphere. Your kids can enjoy a tasty pizza while you indulge in other southern Italian fares at Novetrattoria. Snag a shawarma wrap for lunch at Pitalite on Bloor St.

Rosedale is a lovely destination for those who enjoy a private, lavish lifestyle with various neighbourhood amenities and Downtown Toronto within reach.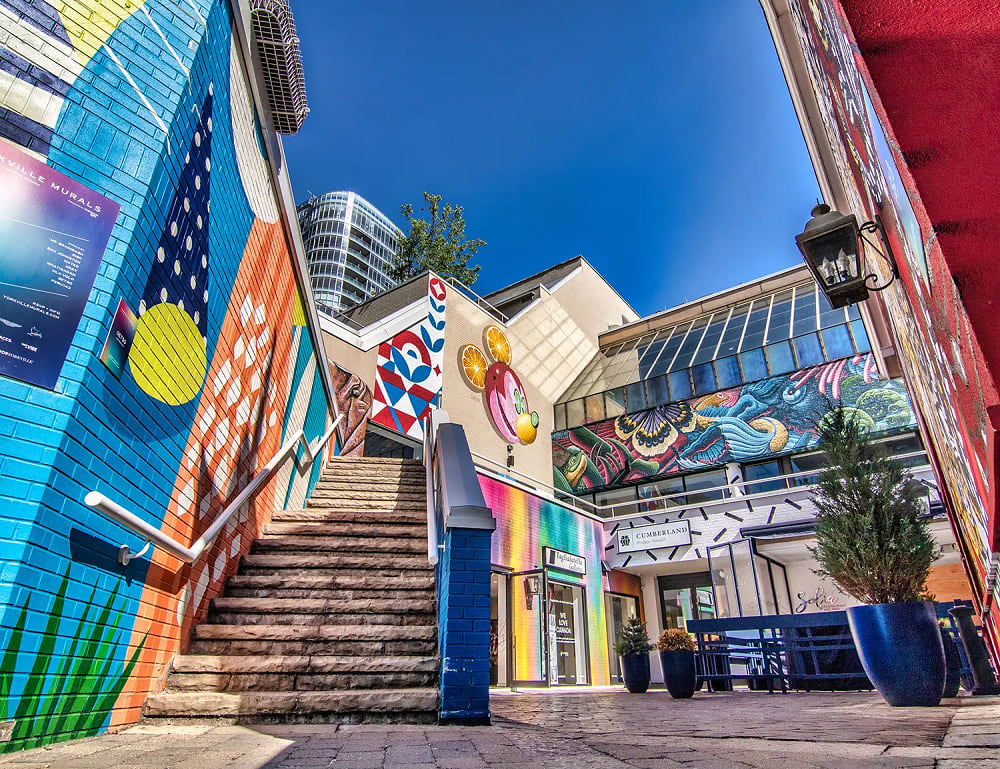 Credit: Yorkville Murals
Yorkville

Yorkville is a highly sought-after, sophisticated, fashionable, and walkable district. This central community is vibrant and features boutique retailers and high-end restaurants. There are several cultural attractions, top-tier shopping on Mink Mile, and fabulous eateries here.

Spending time among various art galleries and cultural ventures is a typical Yorkville pastime. The Royal Ontario Museum has a stunning and eclectic rotation of galleries featuring natural history exhibits, interactive displays, sculpture, global artwork, and more. Head to The Gardiner Museum to view the expansive collection of ceramics showcasing thousands of years of human civilization. For a relaxing afternoon in the great outdoors, head to the Village of Yorkville Park to reflect among the wildflowers, herbaceous garden, and crabapple orchard.

If you love luxury brands and exceptional cuisine, you're in luck. Set in an array of stunning Victorian rowhouses, Sassafraz is a charming French-inspired bistro with a beautiful patio fit for date night or catching up with a close friend. For a culinary journey that makes you feel like you've traveled to Kyoto, Japan, savor the tasting menu of Aburi Hana. For a convivial post-work meet-up complete with libations and shareable Mediterranean snacks, head to Bar Reyna.

As for shopping, there are many places to purchase high-end retail. Cashmere shawls, scarves, and more can be found at Kumari's, while chic Bohemian clothing is attainable at Free People. Dolce & Gabbana is always a fashion-forward option for men and women, while all your stylish athletic wear can be purchased at Lululemon.
Once you have your eye on one of these fabulous Toronto neighbourhoods for your next move, give real estate agent Andy Taylor a call. Andy will find you luxury Yorkville condos, Rosedale houses, or property in any one of these remarkable communities.