As Canada's biggest and most diverse city, Toronto offers a wealth of activities for its residents including numerous chances to get outdoors for sports and recreation and lead a healthy lifestyle. There are numerous parks and green spaces including incredible destinations like the Toronto Islands, beaches and parks up and down the Lake Ontario shoreline, and the breathtaking Niagara Falls. Here are a few ways to get outside in Toronto.
Toronto Islands
The Toronto Islands make a wonderful natural playground for owners of Rosedale houses looking to escape the stress of city life without having to go far at all. The Toronto Islands are just offshore from downtown Toronto and have a wide range of activities and attractions to enjoy against the sensational views of the city skyline and Lake Ontario. The main way to get to the Toronto Islands is a 10-minute
ferry ride
. However, adventurous outdoors enthusiasts often paddle the short distance to the islands in kayaks or canoes.
The islands have a few permanent residents and are popular with tourists in the summer. There are numerous areas to enjoy such as beaches, including a clothing-optional location on Hanlan's Point, and plenty of paths and roads for biking, jogging, and running. Centre Island is the most popular and has a small amusement park, while Hanlan's Point has the historic Gibraltar Point Lighthouse – one of Toronto's oldest buildings.
High Park
High Park
is Toronto's largest and most popular park. Its sprawling greenery is just off the waterfront and provides a remarkable natural setting for residents of Yorkville houses to enjoy. For nature enthusiasts, there are vast open spaces with trails through forested areas and along streams and Grenadier Pond which locals favor as an ideal fishing spot. For recreational enthusiasts, there are baseball and soccer fields, tennis courts, a swimming pool to cool off in during the summer, and a zoo. During the winter months, families and friends bundle up and enjoy the park's ice-skating rink.
Riverdale Park and Farm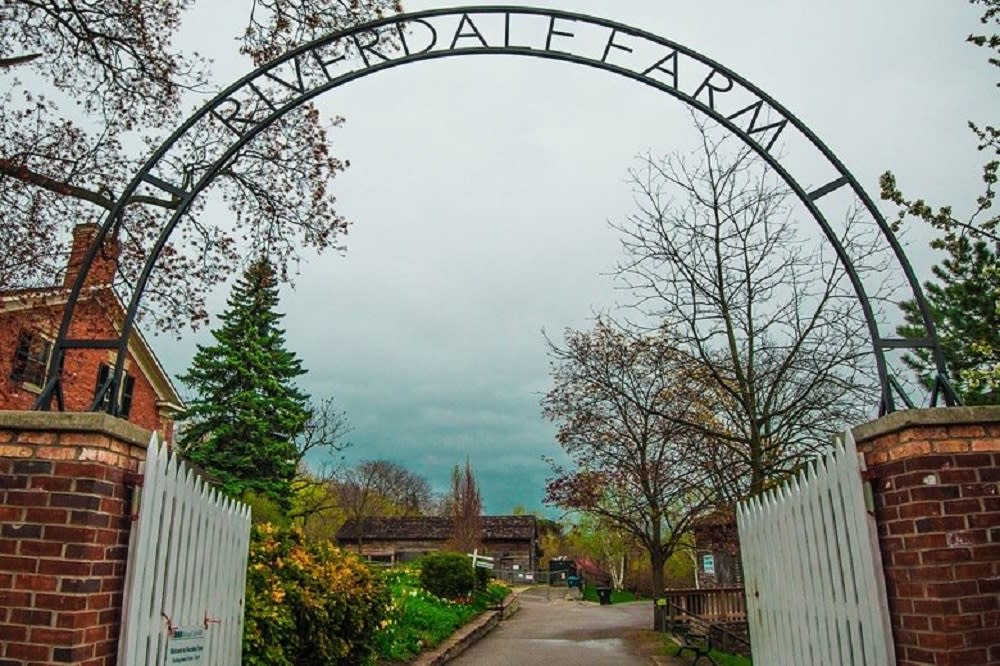 Residents of townhomes in Riverdale are fortunate to have the expansive Riverdale Park right in the neighborhood for year-round activities and recreation. Riverdale Park covers 18 hectares and spans Don Valley Parkway and the Don River. The outdoor complex has large grassy areas for picnics and relaxing, a running track, tennis courts, a baseball field, and an ice skating rink. It also offers a spectacular view of Toronto's skyline and residents have found that it's an excellent place to watch the sunset. The nearby Riverdale Park West has more baseball fields, a dog park, and a zoo.
Just west of Riverdale Park is the
Riverdale Farm
, a unique working farm right in the middle of the urban area which gives city slickers a sense of what life was like in Ontario's 19th-century agricultural society. Visitors can watch traditional farm activities such as butter churning and spinning wool into yarn. Admission is free and the farm is open year-round. A farmer's market operates just outside the main entrance so visitors can go home with some fresh produce.
Evergreen Brick Works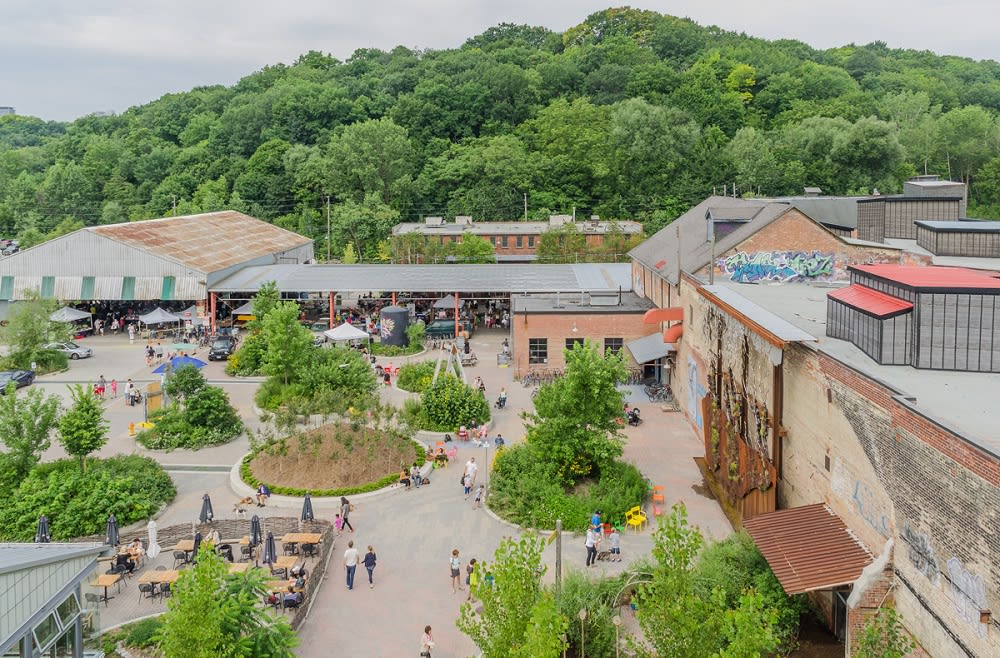 Evergreen Brick Works
is a wonderful example of how an old industrial site can be transformed into an open space that attracts locals for a variety of activities. The site is an eco-oriented complex set alongside forty acres of forested space with plenty of hiking trails crisscrossing the region. The main area has several public markets including a weekend farmer's market and a gardening store as well as an event space that hosts a wide range of activities. Evergreen Brick Works also includes an ice skating rink, a children's garden, and the Lookout Path which offers stunning vistas of the downtown skyline.
Niagara Falls
Living in Yorkville condos means living within a two-hour drive of one of the world's best-known natural wonders,
Niagara Falls
. This awe-inspiring piece of nature is a drive of about 140 km around the west end of Lake Ontario to the Canada-United States border. Toronto residents often take out-of-town visitors to see the falls which also include Horseshoe, American, and Bridal Veil Falls. There are many ways to experience this incredible scenery including an observation tower and guided boat tours that ply the churning water below the falls. One of the most popular is the Niagara Falls Maid of the Mist tour which takes visitors near Horseshoe Falls. There are many other activities around the area including the Cave of the Winds, hiking, dining, and an aquarium.
Moose On The Loose 4-Day Canadian Road Trip
Residents of Rosedale mansions looking for the ultimate Canadian outdoors experience should try the Moose On The Loose 4-Day Canadian Road Trip offered by
Lake Fever Wilderness Co
. This unique trip is billed as the great Canadian road trip into the wilderness and could very well be a once-in-a-lifetime experience. This four-day, three-night trip offers sightseers camping, hiking, swimming, and paddling fun with classic itineraries and routes.
Lake Fever takes care of transportation and provides all equipment and camp-cooked meals. However, guests on this tour are asked to help with cooking and doing the dishes at least once. There are a limited number of departure dates and the group size is limited to fourteen. The camping destinations are Algonquin Provincial Park, Six Mile Lake Provincial Park, and Bruce Peninsula National Park.
If you want to learn more about outdoor experiences you'll love in Toronto or about Riverdale houses, please don't hesitate to reach out to
Andy Taylor
for expert guidance.