Toronto is a dichotomy. A city bathed in vibrant layers of history that simultaneously embraces its ever-deepening cultural diversity and the promise of the future. Its motto — "In Diversity Our Strength" — buttresses its standing as one of the world's most varied and inclusive cities, with 47% of its population foreign born.
When it comes to Toronto housing and architecture, things are no different. The old and the new stand majestically side by side. Venerable single family homes are cherished by residents and tourists alike, imbuing our streets with a depth of character oft-forgotten by other metropolises. While we collectively care for these structures much as we would a revered grandparent, architects and developers are simultaneously dedicating their passions to the creation of modern luxury single family homes, townhomes and condominiums that espouse the best of technology, eco-consciousness, social connection and joie de vivre.
Downtown, the clamor for lakefront condominium residences continues unabated, with developers grappling for land while builders scramble to keep pace with demand. Away from the city's central business district, charming townhouses offer privacy without the maintenance. And if your plan is ownership of a single family home, neighborhoods both within city boundaries and extending into the suburbs present the tranquility of dreams. Inventories across the spectrum remain low, leading to multiple offers for many properties, often exceeding asking price.
Whether you're just launching your home search or already moving full speed, let us help you understand the three main types of luxury residences available in the greater Toronto area — single family homes, townhomes and condominiums — and the lifestyle that each affords.
SINGLE FAMILY HOMES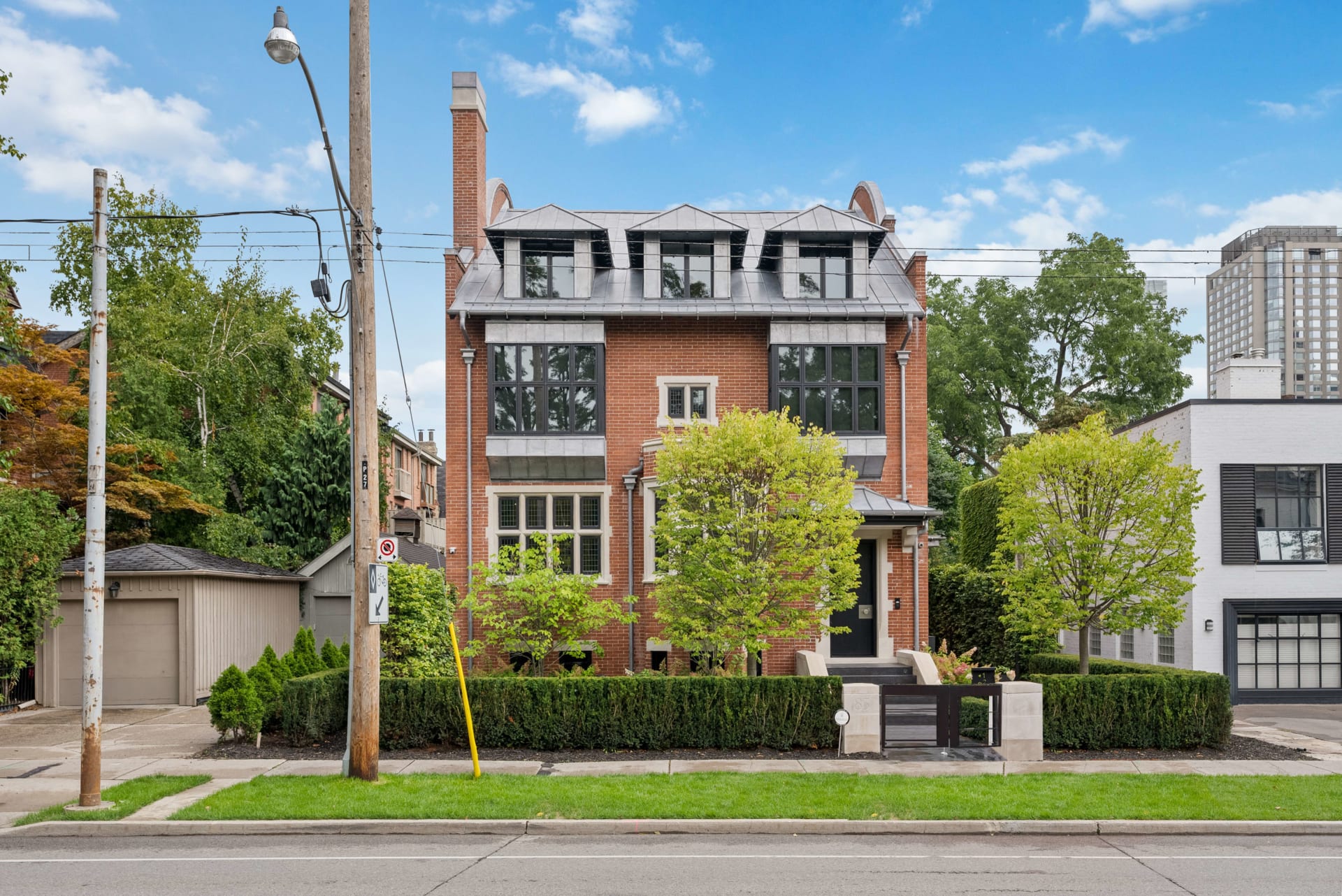 If you're in the market for a single family home in Toronto, you know the rule: Location. Location. Location. It is the critical decision that will affect every aspect of your daily life and the value of your investment. The city affords a limitless mixture of neighborhoods and districts, each with its own unique personality. Finding the community that complements and enhances your lifestyle requires due diligence, both online and with feet on the ground.
Proximity to work and commuting time is frequently the driving factor. Fortunately, our public transportation system, run by the Toronto Transit Commission (TTC) and comprising bus, subway, streetcar and paratransit services, can smoothly deliver you to virtually any venue 24 hours a day.
The annals of Toronto live and breathe through its single family homes, from the ancient John Cox Cottage built in 1807 and continuously occupied and into present day to the finest luxury houses just breaking ground.
The standout among Toronto neighborhoods is certainly Rosedale, home to some of the city's most affluent families. Peaceful living with ample green space among the timelessly stylish manses, within easy reach of downtown's cultural vigor, is Rosedale's allure. Riverdale is a family-oriented east end neighborhood featuring tree-lined streets and an assortment of architecturally significant Victorian and Edwardian manor homes. Nearby Lawrence Park has been a work in progress for more than a century, steadily perfecting its birthright as Toronto's premier garden suburb. Charming Colonial, English Cottage and Tudor Revival styles intersperse with new luxury homes featuring the finest contemporary design. Family-friendly Bloor West Village — known for its frequent festivals and events as well as the 399-acre High Park — is rife with smaller single family homes, most from the early 1900s. Pride of ownership in each household has made scenic Ashburn a work of art. Ashburn's ravishing 10-acre country estate at 445 Townline Road, recently sold by Andy Taylor and Jodi Allen, epitomizes serene provincial living. Perhaps no neighborhood better exemplifies the diversity that is Toronto than The Annex, a downtown admix of classic estates from the late 1800s with mid-century mid-rise apartments. Most notable to The Annex is its blend of Richardsonian Romanesque and Queen Anne Revival architecture that has led to more than 500 of its structures earning protected status by the Toronto Historical Board. Rockcliffe-Smythe is consistently listed among Toronto's most affordable neighborhoods — one of the last remaining near to downtown where detached homes may be offered for sale at under a million dollars.
The architectural style of Toronto's luxury single family homes is distinct and historic, yet derivative and evolving. Victorian Era homes, primarily built during Queen Victoria's reign from 1837-1901, are characterized by red brick exteriors, sharply gabled ceilings, angular bay windows and typically a narrow width. Following Queen Victoria, Great Britain was led by King Edward VII from 1901-1910. The Edwardian Era design style that arose during his tenure remained popular through 1914, and is noticeably different in concept and aesthetic from its preceding era. These houses are generally less ornate than Victorians and tend to be wider and boxier, with more substantial front porches. The Tudor Revival style overlapped both previously mentioned eras and was a seminal influence on Toronto, as its popularity coincided with planning of the city's first neighborhoods in the late 1800s. Tudors are immediately recognizable for their large size, steeply pitched roofs, and half-timbered exteriors. As the Arts & Crafts movement flourished across Europe and North America at the turn of the 19th century, Craftsman Style architecture found its foothold on Toronto's streets. This genre arose in direct response to what was considered the excessively ornate concurrent styles, aiming for simplicity and functionality through well-made, hand-crafted homes. Georgian architecture is one of our most enduring, arising well before the City of York became Toronto and remaining in favor with today's home buyers. While it's much more pervasive throughout town in banks, churches and other commercial buildings, the Beaux Arts style is reflected through symmetry, classical columns and pediments, embedded statues and figures, and a raised first story.
But Toronto is not tied to classic design. Thousands of modern homes have been built throughout the greater metropolitan area over the past half century that do not obey the lines of classical eras, yet offer the ultimate in modern luxury, comfort and liveability. The diversity and creativity of single family homes ensure Toronto's ongoing reputation as an architectural destination.
TOWNHOMES
The most diverse category on our list, Toronto townhomes are skyrocketing in appeal and value for myriad reasons. For first-time buyers, they offer a palatable entry cost. They also offer a wide range of pricing, size, design styles and options. With a smaller footprint than single family homes, they fit well into the areas proximate to but not quite downtown. And minimizing maintenance time is always appealing to busy homeowners.
Townhomes originally arose as urban second homes for wealthier families that lived predominantly in the countryside. Today, they entice purchasers across every demographic. They also inspire the most creativity from developers in an ever-changing market.
Leading in Toronto's "adorable neighborhood" category is up-and-coming Cabbagetown. Once one of the city's poorest areas, it features a wealth of charismatic, restored Victorian homes and townhomes. Deriving its name from the Irish immigrants who grew cabbage in their front yards, the community continues to grow in popularity due to its personality and closeness to the downtown core. Just south of famous Queen West Street sits Niagara, one of our most connected locales, which blazes with pizazz and an assortment of townhouse designs across the spectrum of prices. Liberty Villagebustles with activity and is a walker's paradise. New townhomes intersperse with condominiums and industrial lofts, creating a dynamic aura. In western Toronto, Wallace Emerson abounds with luxury townhomes. It's a seductive option for buyers thanks to a healthy mix of trendy shops and restaurants, as well as parks. It is also directly on the Bloor subway line, easing travel around the city.
Townhouses seem like a more static category of home, but are actually the most dynamic. Traditional designs endure and are joined by an array of exciting alternatives. Toronto's original townhomes were mostly row houses, which are typically set at the same point on the property line as their neighboring units, sharing a common wall, roofline and a consistent exterior design. Traditional, older townhomes are scattered throughout Toronto and tend to have larger yards, often both fronting and backing the house. Newer traditional-style townhomes are generally being built in the suburbs. Surging in popularity recently are back-to-back townhomes, where units share a common rear wall and face opposing parallel streets. Open concept floorplans are favored among developers of this style. Their downside is that the shared rear walls limit the availability of natural light. Executive townhomes have appeared on the market as an alternative for families. They offer the size of a single family home, but with limited maintenance. They usually have 2-car garage and often dedicated office space. Stacked townhouses feel similar to mid-rise condos, except that each residence covers multiple floors, and offer a lower price. Two fun and dynamic styles are surging in close proximity to downtown Toronto: condominium townhomes and live/work townhouses. Condominium townhomes are connected directly to a large condominium building. Owners enjoy the same amenities as https://torontoluxuryhome.ca/properties/155-cumberland-street-1901 those of the condo itself, including parking garages. These units tend to come with higher monthly fees due to usage of the condo amenities. Live/work townhouses stand on busy streetfronts with retail or office space on the ground floor with a one- to three-level townhouse above. These are an ideal option for small business owners.
CONDOMINIUMS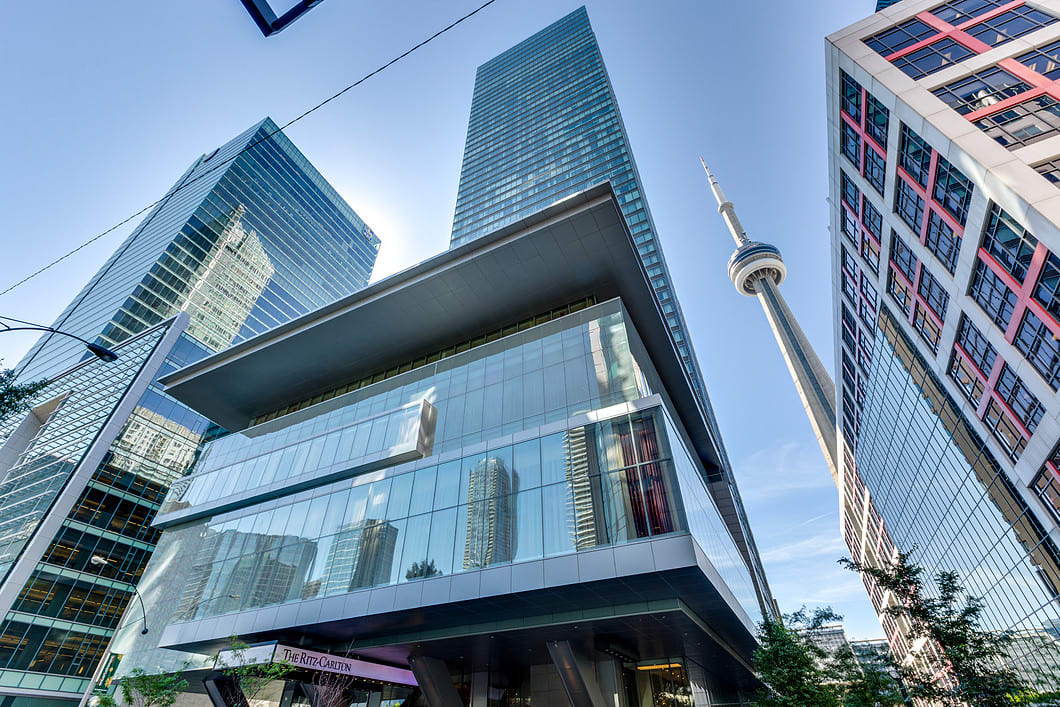 By far the most glamorous type of Toronto residence is the condominium. Low- and high-rise condominium buildings can be found throughout the greater metropolitan area, but they are particularly prevalent in the denser urban areas. It is downtown, and particularly along the Lake Ontario waterfront, where the best and brightest sparkle. Condos are so much more than merely a place to lay your head. From impeccable design to opulent amenities, The Queen City's premier condominiums ensure your every whim and whisper is quenched.
The term "condominium" refers to the form of legal ownership rather than structural specifics. For purposes of our examination here, we will stick to exploring the available buildings and amenities in Toronto luxury condominiums. Condominiums are essentially zero maintenance for the owner — that responsibility falls on the condominium association — but in exchange you can expect significantly higher monthly fees. What distinguishes condominiums from other types of homes is the endless assortment of amenities offered by the buildings. It may be as straightforward as a community swimming pool, or a list of luxurious amenities as vast as the Ritz-Carlton. In fact, the Ritz-Carlton Residences is itself an option. Let's take a look at a sampling of Toronto's finest luxury condominiums and penthouses.
The Residences at the Ritz-Carlton, Toronto sets the standard and continuously raises the bar for luxury living along the waterfront. Commanding the best location of any building in the city, the Ritz-Carlton name is synonymous with white glove accommodation. 159 private units reside atop the hotel with private entrance and elevator access. Owners revel in full usage rights to all hotel amenities and services. This coming September will see the arrival of perchance the finest condominium in town with Unit 4602/4603, the union of two suites into a single brilliant floorplan that is currently listed for $23,500,000 by Andy Taylor and Jodi Allen. Another transcendent residential hotel is the Residences at Shangri-La Toronto. This 66-story building is one of the ten tallest buildings in the city and a landmark on University Avenue. Iconic One Bloor dominates the downtown skyline and offers unique 2-story "city suites," and well as an array of magnificent amenities. In the heart of the entertainment district sits The Pinnacle on Adelaide, within walking distance to night clubs, theatres, bars and restaurants. Immediacy to the financial district and downtown core make it a favored option for professionals who work hard and play hard. 155 Cumberland Street in the heart of Yorkville is one of Toronto's most discrete and expensive condo buildings, offering just 15 luxury units — some of the most sought after trophy properties in the city.
Finding your perfect home can be daunting. Andy Taylor & Jodi Allen are ready to put their vast experience, market knowledge and network connections to work in achieving your dream.